Did you buy unhealthy Orchids?
Orchids with poor system require careful handling when repotting. Phalaenopsis orchids are relatively easy to grow and they can last for 3 months to bloom.
You might be thinking, not to buy because no life, it can be a wasting of time, or because you use to buy the most beautiful Orchid that really in place or looks fantastic.
For me, Orchid is alive and still beautiful. I know that it has an unhealthy root and flowers. It need water, sun, care and love. At the store, or at the flowers shop, it happen that it will get dry. The Shop doesn't have much time to take good care of them, rather to sale them as soon as possible.
I buy it not because of the lower price, the reason wants to take it good care. As Orchid fans, there are no limitations. Pretty or ugly is you're own decision as long as you give love and care.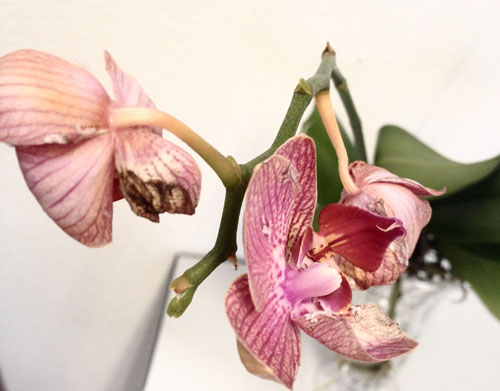 And you enter the shop and see it might you will say, it is ugly, it will never grow and alive again. I don't want to have and buy it. Even though it is not pretty like you use to buy. Just believe, even a flower has a chance to live.